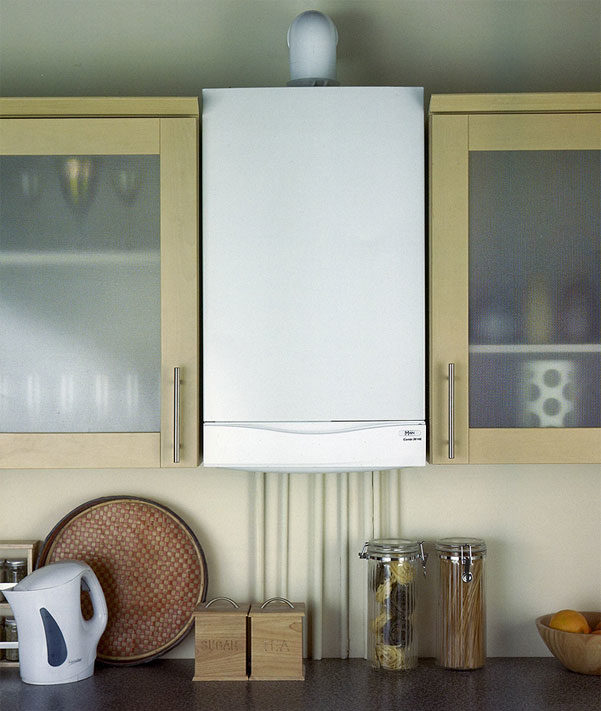 A
combination boiler
or "
combi boiler
" is an excellent green choice to meet your home heating and hot water needs. Energy savings can be dramatic. Modern heat exchanger designs can make
combi boilers
maximize fuel efficiency and can provide an energy savings of over 30% compared to most conventional gas water heaters. They can eliminate standby heat losses which can total $100 or more per year. In addition to the energy savings, a combi boiler also saves space. Most combi boilers take up a very small footprint by reducing heating space requirements by up to 70%, to make a utility room more organized and usable. In fact, many of these combis, can be installed in a closet out of sight or hung on walls. The two factors with the fact that you're simplifying your home by using a single heat source can make a perfect solution out of either a
gas combi boiler
or an
electric combi boiler
.
See our other article on Combi Boilers Advantages and Drawbacks for additional information.
You may already know this, but the best time to buy and install a combi boiler is during the heat waves of summer. Most people forget how cold it can get when winter arrives, and don't think about their hot water and home heating needs. Summer is the time to plan for winter. Replacing your boiler now will ensure that you have the time to make a smart choice. Remember you will be selecting a boiler that if selected properly you will count on for the next few decades. Choosing a reliable and energy efficient product is extremely important.
Combination boilers heat your home and hot water with a single heat source, a single compact appliance. Combination boilers are easy to install and because of the very nature of just reducing two heating sources down to one without a separate water heater, usually costs less.
Combi Boiler Prices
Combi boiler prices vary, depending on size, make and what type of fuel it burns. The average price of a new gas combi boiler including installation is around $3,700 (£2,300). The final price of the combi boiler cost includes:
Cost of fittings and Accessories
Cost of removing old tanks or old systems
The most popular and highest rated combi boilers and prices without installation costs are as follows, shop around to get the best combi boiler price:
A Baxi combi boiler costs $1,000 to $1,450 (£650 to £900)
A Vaillant combi boiler from the manufacturer costs $1,150 to $1,450 (£725 to £900)
A Worcester Bosch combi boiler from the manufacturer costs $1,150 to $1,600 (£725 to £1,000)
Oil combi boiler prices
Oil combi boilers usually cost slightly more to buy and run but are a good option if you don't live on the gas mains. Prices can range from $1,600 to as much as $3,200 (£1,000 to £2,000) without installation.
Combi boiler installation costs
Just as with all other major purchases, it is recommended getting at least three quotes and asking for references before hiring a contractor. If your boiler installer isn't registered or licensed you need certify that the installation meets building regulations yourself, which requires paying for a building inspector to check the installation. It is always better to hire a registered or licensed installer.
Combi boiler installation costs will vary depending on whether you're:
Replacing an old combi boiler model with a new one, or
Replacing an old standard boiler with a new combi boiler, or
Installing a new combi boiler in a different location
A combi boiler is designed to contain all its parts in one neat, compact unit, so the actual installation of your new combi boiler, depending of its complexity, shouldn't take a professional more than a few of hours to install. However, because the design of combi boiler models can vary greatly, installation costs can vary greatly as well. Costs of installing your combi boiler will depend on factors such as size, whether or not radiators need to be installed or replaced and the length of flue required to vent waste gases. You may also need to remove old water tanks in the attic and airing cupboard too, from start to finish, it could take a few days to install your new combi boiler.
Sometimes going to local shops will enable you to negotiate a better deal, one that often includes installation and a warranty and/or guarantee in the asking price. The price of installing a combi boiler will vary from household to household; the most important thing is to shop around for manufacturer and size you want and need. Don't just buy the first thing that comes up; compare quotes to get the best deal you can.