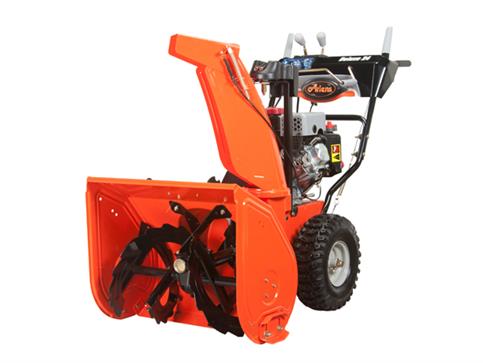 The
Ariens Deluxe Sno-Thro series
are a great snowblower option that gives you the power and flexibility to clear paths whether you have light accumulation or dense, heavy snow. With enough power to go through 16″ of snow with a throwing distance of up to 50 feet, this snow blower may have enough power for you without breaking the bank. Featuring a large 14-inch, 3-blade high-speed impeller, you'll throw more snow in less time so you can get back to what matters. Impressive and great snow blower for the money! Used to have an old Ariens for over 15 year but it finally gave out. After a lot of research, I decided to buy the
Ariens Deluxe 28
because of the features and price. There is no question that I made the right choice.
Ariens Deluxe Series Features
Ariens AX engine offers powerful snow-clearing action.
It has 6 Forward speeds and 2 reverse speeds to let you adjust snow throwing to accommodate different conditions. The 14 in. serrated auger handles compacted snow and ice and aggressively pulls it into the blower and 14 in. 3-blade impeller provides the driving force necessary to powerfully discharge the snow. I used it for about two hours straight clearing mainly 12″ of heavy snow. I also cleared approximately 40′ of plowed snow that was 16″ to 20″ high. It never missed a beat and threw the snow a good 40 to 50 feet like it was being shot out of a cannon.
The new Auto-Turn Steering offers maximum control, precise turning and smooth operation. It is larger and heavier than my old one but it is very balanced and the Auto Turn (which is sweet) basically negates the extra weight.
Electric Push-Button Start
120-Volt electric push-button start provides a quick and easy start, I did try the electric start to make sure it worked with no problems. I've had it for a month and it starts on the second pull every time.
205-degree, 2.5x ice drill chute with a remote deflector accurately discharges snow up to 50 ft. for enhanced clearing. The discharge chute moves very easily and I have not had it affected by anything yet. I did decide to try the Ariens Snow Jet spray when I bought it and it does work well. I have not had any snow sticking to the shoot and very very little sticks in the auger or impeller sections.
In-Dash Halogen Headlight
Large, in-dash halogen headlight helps provide extended snow removal time and added safety. The headlight works well and I have no problem clearing snow after dark.
Build Quality and Warranty
Includes a 3 year limited consumer warranty I am very impressed with all of the features and functionality of this machine. The price was equal or in my opinion less than the other major brands when you consider it has larger impellers, augers, and has Auto Turn. I feel that Ariens snowblower is built better and is much more durable than it's competitors. I am proud to say that this purchase has also helped to keep fellow Americans employed. Ariens has definitely earned my business and have my loyalty. I would recommend this model to anyone who has a lot of snow to move.! Here's a
link
to the Ariens User Manual site.