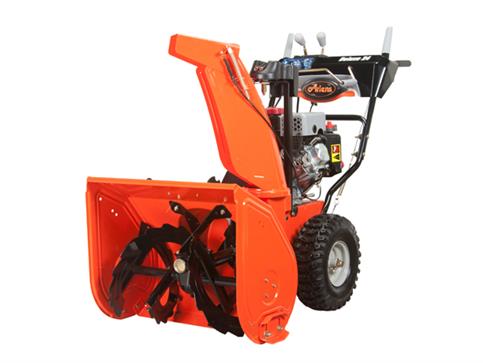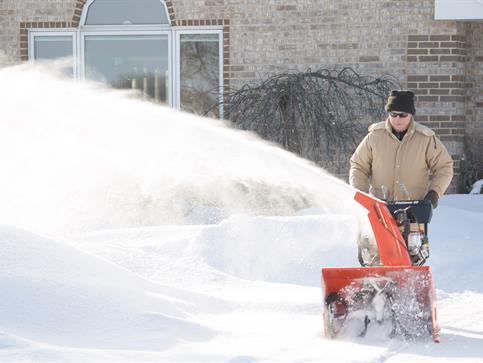 Ariens Platinum in Action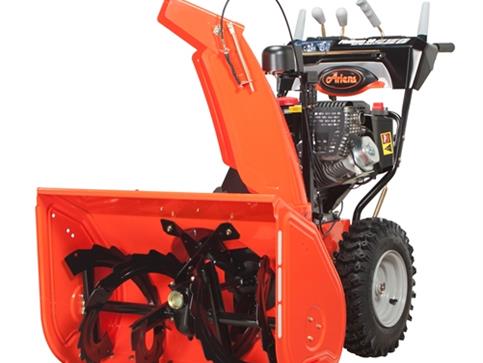 Top of the line Ariens Platinum Sno-Thro is state of the art with features that will make moving snow effortless and comfortable. Clearing whatever winter throws at you is easy. It comes in 30 or 24 inch sizes. The new SHO model stands for "Super High Output" and have larger engines to provide even higher throwing distances.
Platinum Sno-Thro® Features
14″ 3-blade high-speed impeller has improved belts and sheave to help throw snow up to 55 feet!
Auto-Turn™ steering technology
This feature eliminates the need to take large loops during a turn. Allows you to make even, tight turns from the center axis of the machine. You can avoid straining and pulling while initiating a turn and instead guiding the snow blower precisely and smoothly without adjusting speed.
The powerful, bright light leads the way will light your path and helps you to
be seen.
Put the snow exactly where you want it. The dash-mounted chute control rotates the chute 200 degrees left or right.
Keep hands toasty in even the bitterest of cold with dash controlled handwarmers.
Dash panel is Rugged, reliable, easy-to-use and built to last. Control all that power easily.
Feature a 3 year warranty for ease of mind. Other features include a new design with simplified controls, and high oil fill with a built-in dipstick to make engine maintenance a breeze, 2-position throttle system, large fuel capacity, and superior power output engineered specifically to maximize the performance of each Ariens Sno-Thro®.
Additional information can be found here