John Deere Snowblower 522E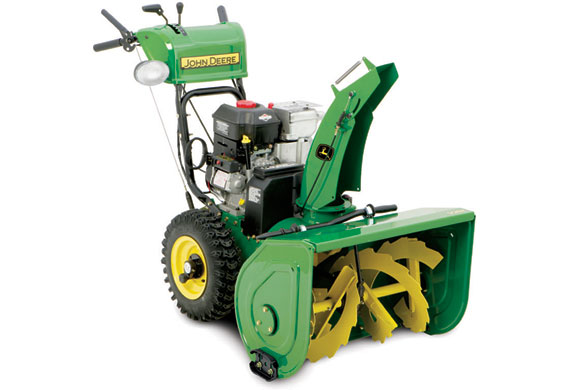 John Deere Snowblower 928E
John Deere Snowblower 1130SE
Pros
: Established and trusted brand with unquestioned quality, function and reliability
Cons: More expensive than other brands
The Verdict: John Deere snowblower is great if you put importance to quality and are willing to pay a little more for it.
Why choose a John Deere snowblower when there are so many others around? You may ask. It's not the cheapest but it's considered one of the best. The John Deere snow blowers are an industry leader. It has gone through and passed testing by experts and consumers for their quality and function. John Deere has been around since the early 1800's and is one of the oldest companies producing machinery for uses ranging from agriculture, construction, and residential. John Deere is well respected and known for producing quality built products that are used around the world. One can easily spot their distinctive green and yellow machines.
They are considered by many as one of the best snow blowing equipment you can buy. Not only do you get the expected build quality but also their extensive network of dealers both online and with traditional brick and mortar storefronts. And of course all John Deere products come with a manufacturer's warranty.
When choosing which model of John Deere snowblower to purchase, you need to weigh the pros and cons of the different models available. You must ask yourself which model is the better choice for the type of terrain and snowfall you have at your house.
If you have relatively flat terrain and get light snowfall, then the John Deere snow blower with a single-stage configuration is a perfectly good unit to purchase. It is the lightest and the least expensive John Deere snow blower.
However if you live in an area where the terrain is steep or not flat or has heavy snowfall, then the larger more powerful dual-stage configuration is the better choice. Read on to find out the differences between the two.
Another thing to consider in making your selection may be which model you will be able to handle. Smaller models are light, but may need to be pushed and pulled manually. Larger units on the other hand are much heavier, but its wheels may be powered forward and in reverse to make it easier to use. All models have electrical starters so you don't have to strain yourself to pull start them.
The Price of the units may need to be considered as well. The units range in prices from the least expensive single-stage snowblowers to the more expensive dual-stage snowblowers.
Differences between John Deere Snowblower Models?
John Deere single-stage snowblower
The John Deere single-stage snow blower is the least expensive model. The light-weight design makes it easy to store and operate. Typical single-stage snow throwers, such as the John Deere 522E snow thrower, weigh less than 100 pounds, and are only intended to clear areas with snow less than 12 inches deep. Because they're relatively lightweight, they are still easy to maneuver.
The part of snow blowers that cuts into snow and lifts it up is called an auger. The single-stage snowthrower uses only an auger to collect and discharge the snow. It rotates constantly to loosen up and pick up the snow and discharge it through the discharge chute.
John Deere dual-stage snowblower
John Deere dual-stage snow blower is used for larger jobs. The units are heavier, but can be used on much deeper snows than the single-stage units. Also note that these are much more expensive and may not be the most economical choice if you're just using it to clear the driveway.
Aside from the size differences of the units, the dual-stage models of snowthrowers have both augers and impellers. The impeller is the small wheel with blades that is fitted behind the auger to propel loosened snow into the discharge tube. Of course, there are various dual-stage snowblower models to choose from, just note that the power rating of the engine that a snow blower is fitted with gives an indication of the kind of performance you can expect. Read a review of one of the more higher rated dual stage snowblowers.
No matter which John Deere snowblower you purchase. Have the peace of mind that you have made a great decision. With your new snowthrower, you will be able to easily clear your property of snow to make it safer and add to the curve appeal of your property quickly and without back straining.
Check out this video: