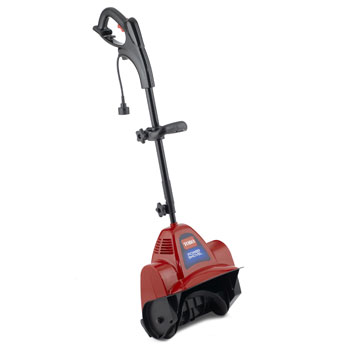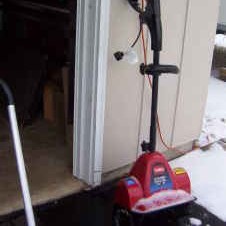 Pros: Light, inexpensive, efficient, well built, adjustable handles
Cons: Cannot direct the snow removed, hard to use over loose sand or gravel.
The Verdict:
Toro Power shovel is inexpensive and easy to use. Its compact design can easily clear driveways and steps covered with light to medium snow.
The Toro Power shovel is an inexpensive, efficient, and lightweight electric snow remover. Removing snow from your driveway can be painful backbreaking work. Well not anymore I am glad to report. This electric power snow shovel easily removes wet or dry snow and can clear driveways quicker and with less effort than any manual snow shovel. What used to be exhausting back breaking work to remove wet heavy snow from steps, decks, driveways, sidewalks, etc. is now a breeze. What usually took hours, now only takes minutes, of course without all the hard work. It's a Godsend, and one heck of a snow removal power shovel. If you need something bigger there are many other brands and options that may meet your needs. Both electric and gas Snow blower models are available from Toro, John Deere, Husqvana, Ariens, and many others, but this Toro electric shovel is perfect if you're looking for a small, light weight, and cheap option for your smaller jobs.
The Toro Power shovel is very inexpensive when compared to other conventional snow blowers. The best part, the Toro Power Shovel is such a reliable power snow remover. It starts every time I need it, without effort. Maintenance is easy; does not need gas, oil, tune-ups, repairs and any other costs associated with owning a snowblower. The unit is very well built with heavy duty impact resistant plastic, metal casing, and a powerful 7.3 amp electric motor. The motor is electrically double insulated for safety. So you need to just add the extension cord of your desired length. My recommendation is to opt for a 150 foot cord of at least 14 gauge. This will give you the most flexibility in the distance that you can shovel snow.
The unit can remove impressive quantities of both dry and wet snow. Specs say that it can remove up to 300lbs per minute.. wow, that's 1800lbs per hour. Obviously this is under the best case scenarios, but still very impressive. Looking at the device, you may initially be skeptical that such a compact and lightweight tool can move so much snow. Believe me, even after over half a dozen major snow storms, the Toro Power Shovel will not let you down. Moreover, during test, the Toro power shovel was easily able to even handle the removal of snow which had partially melted and then refrozen again without taxing the powerful electric motor at all.
The Toro Power Shovel is efficient and lightweight. The unit comes with a stationary handle and an adjustable handle which together make moving the unit back and forth easy and comfortable. The handle can also telescope to accommodate users of different heights. The unit only weighs 13lbs and can easily be lifted to do stairs and or even raised patio decks. With my 150ft extension cord, I can easily do my whole front yard and driveway.
Because of its compact design, the Toro power shovel cannot adjust the direction the snow is blown. This is not as big a problem when considering how maneuverable and light it is. Also, this snowthrower can blow the snow up to 20 feet away. Quite a feat for such a small unit. When using this unit, one must also be very careful when using over loose sand or gravel. This is an inherent drawback with most compact snowblowers.
Although the toro power shovel cannot be said to be perfect, with all the positives going for it, the Toro Power shovel is highly recommended. It's a wonderful tool that's affordable, efficient and hassle free to use. It allows one to clear out snow in a breeze without the usual straining of the muscles or the back.
Videos of Toro power Shovel: