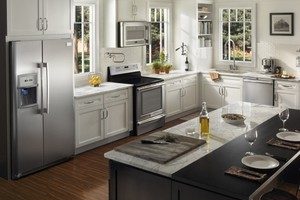 Frigidaire Kitchen Appliance Package
Modern Kitchen Appliance Package
Stainless Kitchen Appliance Package
Kitchen appliance packages
can have many advantages over buying each appliance separately. You may be doing a kitchen renovation or just upgrading your
kitchen appliances
. It's not easy to choose the perfect kitchen appliance package, but spending some time and doing some research before your actual purchase can make your whole process go smoother, easier, and help you save some money.
One thing to consider is that doing a kitchen renovation isn't as simple as going out and buying a new fridge, stove, and dishwasher. This is a major undertaking that requires significant planning by you and your designer or contractor if you have one. You have to keep in mind that your choice of kitchen appliances will influence the layout, the shape, and the design of your kitchen. The size and style of the appliance packages can even affect the plumbing and electrical plans. Whether it's a stainless steel appliance package or any other design appliances, purchasing your appliances as a complete set will make designing easier because each appliance will match with the other, and their sizes will be consistent. Also, Consider your budget and lifestyle when selecting appliances.
So what items can be purchased as part of kitchen appliance packages?
Well, just about any of the major appliances can be part of the package depending on the manufacturer.
Stoves / Ranges
Range Hoods
Ovens
Refrigerators / friges
Freezers
Dishwashers
Microwave ovens
Trash compactors
Washing machines / washers
Clothes dryers
Wine cellars
All the major manufacturers, Frigidaire, Maytag, GE, Prestige, Samsung, LG, Electrolux, Viking, Whirlpool and others all offer kitchen sets. These packages are very convenient, look good and can save you money. All appliance manufacturers provide different package levels with different options and prices to fit your needs and budget.
The benefits of buying your appliances as a kitchen appliance set.
When these kitchen appliance packages are put together they are made to match each other. Colors, details, styles and options will be identical to each other. Without much headache and stress you end up with a set of appliances that are coordinated and when installed in your kitchen will not look like a mishmash of different looking items.
By purchasing these items as a package, you basically get the benefits of a bulk buy. Package purchases will save you money, and as consequence your budget will afford you more expensive and better quality appliances than if you bought them individually.
If you're having problems finding the exact package to fit your needs. There is also the option to choose your own appliances and make up your own appliance package. Although not the most economical package, you can still save substantial dollars because you are buying two, three or more items together and most stores will offer very good prices when the purchase is substantial. With this option you get each exact item you want.
How to choose kitchen appliance packages
You should identify goals and priorities of your kitchen. Think about a day in the life of your kitchen to get ideas on what is really important to you as far as option and appliances. Make a list of things such as:
Who cooks?
How many people live in the house
How many people are usually in the kitchen at one time?
Do you bake a lot?
What kind of food do you usually cook?
Answers to these questions will help you get a clear vision of what your new kitchen will look like and help you in choosing your best option when exploring various kitchen designs, layouts, appliances, and planning out space and storage. Culinary functionality of kitchen appliances combined with magnificent design aesthetics are key elements in creating your dream kitchen. How do you select kitchen appliances within a budget for the most important room in your home? In this blog post, I priced out three sample kitchen packages for
Finally, you should have a solid budget to follow.
This is probably your most important question and will determine which kitchen appliance package you can purchase. What is my budget? How do I select my appliances within my budget? What level does your budget fall under, high end luxury appliances, mid-range priced appliances, or budget/economical appliances?
Go shopping first to determine the quality and the features of what you're looking for. This will help you establish a budget. With the advent of the internet, you don't even have to leave your living room now. Once you have established a budget you can afford to spend, your kitchen design, dimensions, and color combinations will help you refine your final choices. Often times if you have a kitchen designer, the designer can give you a good comparable that might be a better choice, or fill you in on customer feedback by telling you what previous clients liked or didn't like about features of the appliances they selected.
What is the difference between standard and professional appliances?
Pro appliances are pricier but tend to be more durable and powerful, and they are designed beautifully. For serious cooks, heavy entertainers, or large families, they are a good choice. There are also many options in standard appliances, which also get the job done and can be beautiful as well. The investment you make is a personal decision based on lifestyle, budget, and taste.
In Summary, What are the benefits of buying kitchen appliances package?
1. COST SAVINGS: The cost saving can be substantial because you are buying several items at once.
2. MATCHING ITEMS: all the appliances will match each other.
3. BETTER QUALITY: With the savings involved you could opt for better quality appliances.
So next time you are planning to purchase items for your kitchen it is well worth looking into buying kitchen appliance packages. The benefits definitely outweigh the drawbacks.
GE Artistry video showing additional information on appliance packages: